Community Events & Activities
Feeding America Mobile Pantry
The Ramona Food and Clothes Closet partners with Feeding America to bring you a Mobile Pantry in our back parking lot that is open to the public. Each 3rd Friday of the month, a truck will bring perishable food items like produce to the store for distribution. You do not need to qualify for this program. Patrons are asked to line up before 9:00 AM in an orderly fashion and wait their turn. Each person will receive approximately 20-25 pounds of food per family. It is a first come, first serve basis. You will need to bring your own bags or rolling carts.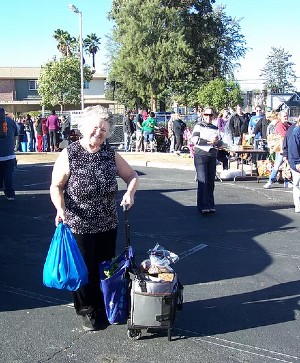 Bread and Produce Donations
On Wednesday morning's we have donated bread from the Panera Bread Store in 4S Ranch. Also on Wednesday's our local Albertsons supplies us with bread and a variety of fruit and vegetables. ​The food that is in the Service Office is for our lower income families while the food, if available, located in the front of the store is for everyone regardless of income. Please be kind and only take what you need.
"Take a Bite Out of Waste" Program
Once a week we receive prepared foods from Ramona Unified School District that they would otherwise discard. San Diego County Department of Public Works Landfill Division and Rich Flammer of Hidden Resources brought this program to Ramona. Our goal is to take left over school lunches and expired food items and keep them out of landfills and in the mouths of either people and/or animals. Whatever we don't give away for free is either given to farm animals or composted.
When you order from Amazon you can make a donation to the Ramona Food and Clothes Closet Foundation by clicking on Amazon Smile Foundation.