Donation Hours: Call 760-789-4458 for which items are accepted through the drive through and parking lot before coming
Mon – Sat 10 am to 4 pm drive-thru. Parking lot Tues, Wed & Sat 10-2
All merchandise donated to the Ramona Food & Clothes Closet Thrift Store helps to support our mission to assist low-income individuals and families with food, clothing, furniture, house wares, medical equipment and referrals to other social service organizations.
We exist because of generous donors in our community who want to help us in our mission.
With your help our thrift store can continue to contribute even more to the success of our Foundation's Family Assistance Programs, while providing our customers with a convenient, affordable place to shop.
Store Location: 773 Main Street, Ramona, California 92065, (760) 789-4458
DONATION HOURS: 10:00 am to 4:00 pm MONDAY – SATURDAY. Please call 760-789-4458 prior to coming as specific items are being taken through the drive through and parking lot during Covid-19 rules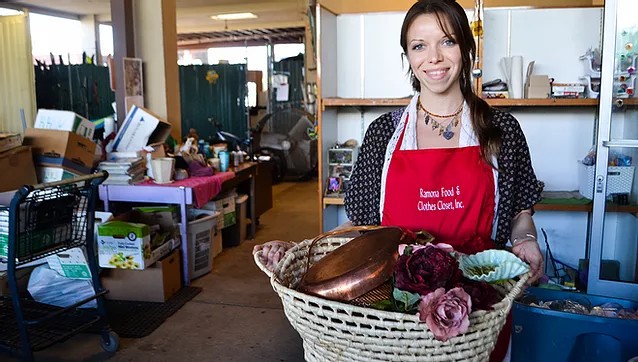 Ramona Food and Clothes Closet does not accept ripped, stained, broken, or otherwise unacceptable furniture, electronics, sporting gear, or exercise equipment.
Items Accepted
Clothing: All Men's, Women's and Children's clothing of all types.
Electronics: TV's (non-CRT only), Computers, Laptops, Microwaves, Monitors, Lamps, Toasters, Fans, Blenders, Speakers, Clocks, etc.
Food items: Unopened Non-Perishables before expiration date, Fresh Fruit & Vegetables, Bread, etc
Furniture: Sofas, Tables, Chairs, Desks, File Cabinets, Dressers, etc.
Housewares: Dishes, Pots, Pans, Vases, Fruit Jars, Utensils, etc.
Linens: Towels, Sheets, Pillows, Blankets, Rugs, etc.
Miscellaneous: Books, Luggage, Toys, Games, Jewelry, Cosmetics, etc.
Musical Instruments: All except Full Sized Organs & Pianos.
Sporting & Exercise Equipment: Bicycles, Treadmills, Skis, Balls, Bats, Gloves, Skateboards, etc.
Media: Video Games, DVDs, & CD's.
Lawn Mowers: Only if in "like new" condition and are operational.
Items Not Accepted
Appliances: Stoves, Washers, Dryers, Freezers, Refrigerators, or Similar Large Items.
Automotive Parts: Tires, Seats, Wheels, Transmissions, Hoods, Bed Liners, Automobile/Truck Parts, etc.
Building Supplies: Bricks, Concrete, Lumber, Sliding Glass Doors, Windows, etc.
Child Car Seats: All
Cribs: Unless it converts to a Toddler Bed.
Encyclopedias: All.
Food Items: Opened Perishables.
Mattresses, Box Springs, Frames, Waterbeds, or Heaters for same.
Motorcycle & Bicycle Helmets: All
Musical Instruments: Full Sized Organs & Pianos.
VHS, Cassette Tapes, and Records: All
Used Fluorescent Lightbulbs of any kind.
Alkaline, household, automotive or commercial batteries of any kind.
Printers, Copiers, Word Processors or Typewriters.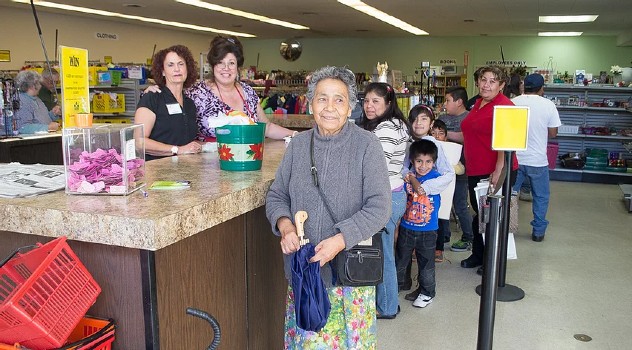 We are proud to announce you can now donate your auto, truck, boat, motorcycle, or RV to RFCC and help provide food, clothing, and other resources to low income families in the Ramona area. you may even qualify for a tax deduction. Please call (855) 500-RIDE
WE CANNOT ACCEPT DONATED ITEMS THAT WE CANNOT RE-SELL. WE MAY REFUSE A DONATION IF IT IS NOT IN ACCEPTABLE CONDITION.
WE WORK TOGETHER WITH THE GOOD WILL TO RECYCLE AND HELP KEEP ITEMS FROM GOING INTO OUR LANDFILLS. IF WE DO NOT ACCEPT AN ITEM PLEASE TRY THE GOODWILL AND/OR RECYLE YOUR ITEM BY GOING TO RECYCLE SANDIEGO.COM, RAMONA DISPOSAL, RICHARD'S RECYCLING, AND ROE (RECYCLE ON EARTH)!
THANK YOU FOR DOING YOUR PART TO HELP OUR EARTH!